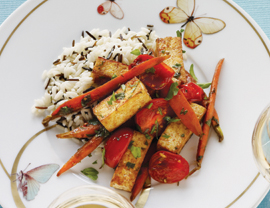 If you are in need of a filling and delicious vegetarian dinner, look no further than this simple, but special, rice and tofu dish. It combines silken tofu strips with crisp tender carrots and bursting tomatoes. A light and acidic sauce of fresh lemon juice and balsamic vinegar coat the veggies and provide a robust flavor. It's served on a bed of wild rice and sprinkled with a shower of parsley.


Think of the recipe as a guide. Feel free to substitute in other vegetables like asparagus or broccolini. Get the uncomplicated recipe now.
Ingredients
3 tsp. olive oil, divided
2/3 cup wild rice or wild rice blend
6 oz. extra-firm silken tofu, cut into 2-inch strips
1 cup peeled baby carrots, sliced lengthwise
9 cherry tomatoes, halved (2/3 cup)
2 Tbs. balsamic vinegar
1 1/2 Tbs. lemon juice
2 Tbs. chopped parsley, plus more for garnish
3 cloves garlic, minced (1 Tbs.)
1/2 tsp fennel seeds
Directions
Cook rice according to package directions.
Heat 1 tsp. oil in nonstick skillet over medium-high heat. Add tofu, and cook 5 minutes, or until browned, turning once. Transfer to plate.
Add remaining 2 tsp. oil to skillet, and reduce heat to medium. Add carrots to skillet, and cook 10 minutes, or until softened and beginning to brown, stirring occasionally.
Add tomatoes, balsamic vinegar, lemon juice, parsley, garlic, and fennel seeds, and simmer 2 minutes, or until liquid is thickened and reduced, stirring occasionally.
Stir in reserved tofu; cook 1 minute, or until heated through. Season with salt and pepper, if desired, and serve over rice garnished with additional parsley.
Serves 2.